About
Equus Health was founded in 1995 with the genuine wish to offer horse owners a guide through the ever growing selection of remedial natural products coming onto the market.
Our interest in herbal remedies and the love of animals led us to this business move. It is a combination of something we wanted to keep learning more about ourselves, alongside the drive to earn a living and all whilst still being involved in what life is all about for us – horses!
We never thought our small business would expand into several franchises covering England, Wales and Scotland. Supplying in excess of 450 shops and offering local advice in each area through our growing network.
Our approach to equine health issues has been a combination of good common sense, current horse knowledge and that of yesteryear, alongside natural products and/or sound veterinary advice and treatment where applicable.
The horse world has seen a massive change in the last 20 years. Feeding, supplementation and remedial work used to be done by 'feel' and animal husbandry was a natural part of everyday life. This was mainly dealt with by people who had the knowledge passed down through their family or neighbouring farmers.
At Equus Health, we continue to move with this fast moving market and can offer our unique combination of considerable horse care with related product knowledge. Through our dedicated team, we try to help and supply you on a local basis – nationwide.
MEET THE TEAM
Natalie Vale – Feed Specialist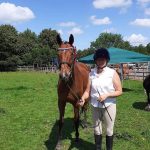 Nat is on the front line, giving feed advice to our customers and she loves the challenge of finding the right supplement for your horse or pony. Before joining the Equus Health team in 2017 I worked has a Freelance Groom and UKCC Level 2 accredited Riding Instructor.
Outside of work Nat is the mother of two children, Reuben and Willow. She also owns two horses, Rash a 20 year old Thoroughbred and Bob, a 3 year old Cob.
Estelle Bradley – Marketing Manager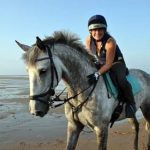 Estelle joined the Equus Health team in 2015, jumping at the chance to combine her love of horses and career. Estelle has worked in marketing for over 10 years and also holds an Equine Science degree and UKCC Level 2 Coaching qualification.
Estelle looks after the website, social media and producing all marketing materials. In her spare time Estelle enjoys competing her horse Pickle and galloping on the beach!
Description coming soon ...